Trail Rail – Single Light Handlebar Mount
Trail Rail sent us a handlebar light along with the Phone / GPS mount that we recently reviewed.
double click photos to enlarge
The weight of the light with battery and mount is 8.2oz (233 grams).
It was easy to remove the Phone / GPS mount from the handle bar rail and replace it with the light.
double click photos to enlarge
If I wanted to use them both at the same time, all I would have to do is to add another rail mount. I have three bikes that I ride most often and what I like is having a rail mounted to each so that I can easily move the light or phone/GPS mount onto any one of my bikes. I have to admit that it does look pretty bad-ass on this bike. This is the light on my road bike and it does work well on the road:
double click photos to enlarge
Run time is listed as 60 to 120 minutes on the Trail Rail website. I haven't pushed the limit yet but had no issues after 45 minutes. There is no question that the mount, and light, are high quality. What we really care about is how well does it light up the trail? I got to really put it to the test thanks to my dog. He goes out with me during the day and is familiar with the trail I was riding so I figured he'd enjoy getting out for a little run. What I didn't expect is that for some reason the bike with a light freaked him out so he took off running. I had to really push it to catch him but the good news is that I was able to get him turned around and chased him back to the car. Even though he was well ahead of me I could see him in the light. This short video shows you the illumination of the Trail Rail Light: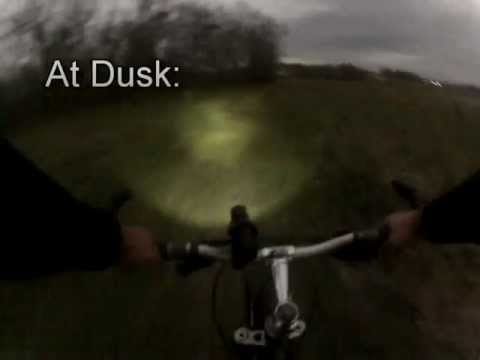 Pros: top quality manufacturing, quality LED light, good illumination, water proof, easy to change out batteries for extended time, relatively low weight with no external battery packs, can be removed and used around a campsite
Cons: Expensive
Trail Rail has introduced different light configurations at different price points so be sure to visit their website to see the various options.
Comments